BS Player Free – A GizBeat Top-Choice App
---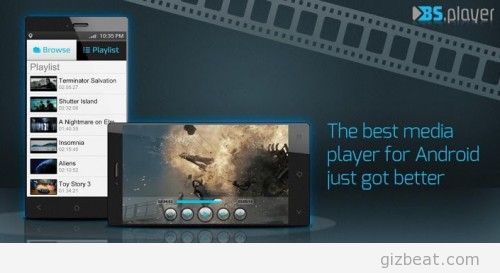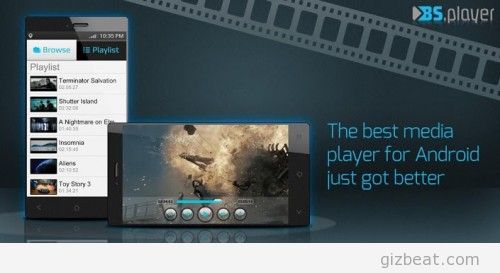 BS Player Free – An outstanding video / movie player and streamer for Android. While ES File Explorer has it's own built in video player, it doesn't have the functionality of BS Player which supports subtitles and excellent onscreen controls – swipe horizontally in the middle for navigating the video, swipe vertically on the left side for brightness and swipe vertically on the right side for volume. – GizBeat
Author's Google Play Description:
Ultimate video player for your smartphone, give it a try – you won't regret it!
BSPlayer FREE is the best hardware accelerated video player for Android smartphones and tablet PCs.
Main features:
– Android 4.2 Jelly Bean MR1 compatibility
– background playback in popup window (long tap on button Back to playback video and audio in popup video)
– hardware accelerated video playback – increases speed and reduces battery consumption*
– dual and quad-core decoding support – significantly improves playback speed
– Support for almost all media files (video and audio player), such as: avi, divx, flv, mkv, mov, mpg, mts, mp4, m4v, rmvb, wmv, 3gp, mp3, ac3… and streaming content such as RTMP, RTSP, MMS (tcp, http), HTTP Live stream, HTTP.
– Multiple audio streams and subtitles.
– Playlist support and various playback modes.
– External and embedded subtitles ssa/ass, srt, sub. txt…
– Find subtitles automatically (mobile data or wi-fi must be enabled to work)
– Playback media files such as videos and mp3's directly via Wi-Fi from your LAN shared drives/folders (such as external USB drives, Samba (SMB/CIFS) shared drives, PC shared folders, NAS servers (Synology and others)) – no need to convert video files and copy media files to SD card anymore!
– Playback files directly from uncompressed RAR files
– support for USB OTG (On-The-Go), for example with Nexus Media Importer app:
https://play.google.com/store/apps/details?id=com.homeysoft.nexususb.importer
and much more!
This package includes support for ARMv7 with VFP and NEON. For other CPU types please download appropriate package. Application will notify you which package you need.
BSPlayer FREE version is ad-supported video player. BSPlayer full version without advertisements with added functionality is available on Google Play.
NOTE: When reporting error please add info about your smartphone brand and model. Also you can send us more detailed bug report on e-mail android@bsplayer.com. We are trying to improve the player for the users and your feedback is appreciated.
This software uses code of FFmpeg licensed under the LGPLv2.1 and its source can be downloaded from BSPlayer website.
Dedicated forum can be found here: http://forum.bsplayer.com/bsplayer-android/.
*Hardware acceleration support depends on device video decoder capability. Hardware accelerated playback in portrait mode may be corrupted on some HTC models (HD and others – hardware issue). Also on some devices (Samsung galaxy S2) zoom/stretch may not work on all video types.
Translations and corrections of the translations can now be submitted here: http://crowdin.net/project/bsplayer-android!
Don't forget to vote 5 stars if you like it and if you don't – let us know why! :)
Tags: video player, movie player, m2ts player, mts player, avc player, mp3 player, avi player, mkv player, mov player, subtitle player, free player…
Go To BS Player Free On Google Play
https://gizbeat.com/1467/bs-player-free-a-gizbeat-top-choice-app/
https://gizbeat.com/wp-content/uploads/2012/12/bs-player-android-450x245.jpg
https://gizbeat.com/wp-content/uploads/2012/12/bs-player-android-150x150.jpg
Top Apps
BS Player Free – An outstanding video / movie player and streamer for Android. While ES File Explorer has it's own built in video player, it doesn't have the functionality of BS Player which supports subtitles and excellent onscreen controls – swipe horizontally in the middle for navigating the...
Damian Parsons
https://plus.google.com/107879368390224447304
admin@gizbeat.com
Administrator
Hi, I'm Damian Parsons. I've been working with Android phones since the first Droid came out. I'm fascinated by computers and technology. My first BBS were ran on an old Apple IIc and Commodore 64. I work hard to bring the latest updates to you every day - without all the boring fluff. Please subscribe to keep up on the newest China tech. See our forum -> www.chinaphonearena.com
GizBeat
---
---