Ulefone Be Touch review 3GB MT6752
---
A couple of months back I reviewed the surprisingly decent Ulefone Be Pro, a phone that has now dropped in price to under $130. The next phone up from Ulefone is the Be Touch.
Ulefone Be Touch review style and build
When I first received the product mockups of the Be Touch I thought it was meant to be an iPhone 6 clone, but this isn't the case. While it certainly is similar to the iPhone 6 with some of its design elements, the two phones are noticeably different.
The Ulefone Be Touch is a slim phone, coming in at 8.5mm according to my measurement. The à la iPhone 6 sides look great. Whether metal or plastic, it's difficult to tell, but they are very tastefully done.
Interestingly, the front glass curves into the sides ('2.5D Arc'), giving the phone a clean, modern look. At the bottom of the front is the touch finger scanner which doubles as a home button.
The back piece shuns fingerprints and smudges. After a day in 40c heat messing about the phone, the back piece barely shows any sign of being touched.
I will note here, for those who care, there is no capacitive button light, and no notification LED. For me this is a bonus, but some may miss them.
The build of the Ulefone Be Touch seems very solid. Though it's longer than most 5.5″ phones, it feels great in the hand. The back piece snaps on sure and there are zero creaks or loose spots.
For it's size, the phone has some nice heft to it. Whenever I go out, I inspect the new flagship models and the Ulefone Be Touch is a phone that feels as solidly built as any of them.
Ulefone Be Touch review touch finger scanner
One of the unique features of the Ulefone Be Touch is it's touch finger scanner. Instead of sliding your finger across, you simply touch.
In practice I've found it to be very accurate and usable, but there is a trick to this. The first is to use your thumb. I found it to be more natural than pressing the finger against the scanner. Second and perhaps more importantly is to use only two or even one finger for all five fingerprint records, and registering each record by touching in different ways.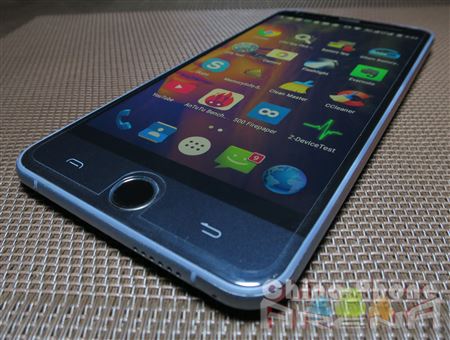 For sure, this method isn't required, but it does allow you to be a bit more sloppy when unlocking because there will be perhaps 20-30 scans of one or two fingers/thumbs (one record contains about five scans).
Ulefone Be Touch review WiFi/GPS/Bluetooth/Compass/OTG
WiFi on the Be Touch is strong, reaching about 100ft/30m from a standard $20 home router before becoming unstable. This should be enough for most home and business WiFi situations.
GPS is working great on the Ulefone Be Touch, gaining a cold lock indoors in under 10 seconds. It even latched onto a couple of Glonass satellites.
The compass is working, as is Bluetooth. No issues connecting to other phones, to PC or to the generic smartwatch.
OTG is working well, with no fidgiting required to use gamepads, USB thumb drives, keyboards and mice.
Auto brightness, or adaptive brightness is working well. The sensor is detecting multiple lux levels and smoothly transitioning screen brightness accordingly.
Ulefone Be Touch review OS
The OS on the Be Touch is Lollipop 5.0. Overall I found Lollipop to be a positive experience on the Be Touch, though I did find a couple of bugs – changing the color of the SIM meter wasn't possible. The setting option is there, but all icons remain white. Note though, this is the same with Mlais M4 Lollipop.
Also, it seems that scrolling is slightly jittery, though not enough to be distracting, and the super-fast scrolling such as when giving a fast flick of the thumb that should bring you very rapidly to the top or bottom of a long web page (think Facebook stream) seems speed limited. That is, no matter how fast you flick, the scroll will only go moderately fast and far, as opposed to turboing to the bottom or top. These minor OS issues are very fixable and will notify Ulefone regarding them.
Big-up Ulefone, because they released an OTA that successfully downloaded and completed without issue. According to the update, it contained various improvements and bug fixes.
I had zero force closes or issues with apps. Everything has run great so far, with Play downloading and updating Google Services and the major apps such as Skype, Line and Chrome running butter.
Touch is calibrated perfectly. Rapid typing is no problem, and there are no double taps required or ghost touches.
A positive point to mention is that now that we have Lollipop on MTK 64-bit SoCs, they are properly being recognized as such. When first opening Antutu, it automatically detected the 64-bit CPU and requested an additional plugin for 64-bit adjustment.
Ulefone Be Pro battery life and charging times
The Ulefone Be Pro charged fully in about 2.5 hours. It played 720P video through YouTube WiFi for 5 hours 15 minutes on 25% brightness before giving up the ghost. This isn't exceptional, but should be enough to get most users through the day.
Ulefone Be Pro review performance
In the past I've pointed out that generally speaking 1GB isn't a lot different than 2GB or 3GB in terms of smoothness of Android, and I still hold to this, but when it comes to transitioning between apps on the 3GB Ulefone Be Touch, they are BAM right there.
Even apps I'd opened 10-15 apps back were still sitting there instantly ready to use in the same spot I'd left them. The casual user who doesn't often multi-task may not even notice a difference, but for power users, the 3GB can satisfy the need for instantaneous response with app swapping.
With the new MT6752 SoC in her and 3GB of RAM, the Be Touch is very powerful. It scored 41k on Antutu with a 12k score on 3D. This makes the phone highly responsive and gives it easily enough juice to run any 3D game or demanding app.
Ulefone Be Touch review display
The display on the Ulefone Be Touch is 5.5″@720p, giving a ppi of 267. While not retina, this pixel density is easily enough for a very pleasant experience.
The display is what they're calling 2.5D. This is a style that has the glass rounded at the edges and it does add a touch of sophistication to the phone.
There is zero light bleed from the edges, no white spotting, and no sign of where the LEDs are situated
There is some mild contrast and color changes from extreme angles, but the display remains 100% readable. Whites are decent, but a bit creamy. Colors have some pop and don't display any type of washed out appearance. Brightness maximum is 355, which is beyond adequate for viewing in daylight. Minimum brightness is 37 lux.
Ulefone Be Touch review camera
The camera on the Ulefone Be Touch is quite good.
I think it beats out the Asus Zenfone 2 camera. I mention this not because the Zenfone 2 has a great camera (actually I found the Z2 camera to be unexceptional), but because here we have the little-brand-that-could Ulefone putting a better camera than a similarly priced major brand model.
According to Ulefone, this is the Sony IMX214. The IMX214 has a true resolution of 13.13mp. The sensor is 1/3.06″ with a diagonal of 5.867mm.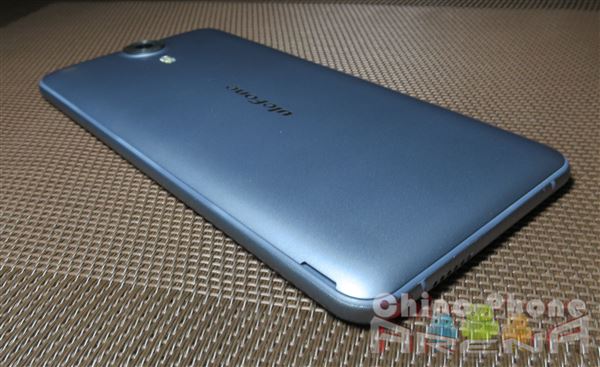 It's not going to do as well as a typical standalone camera in low-light which have a diagonal of 7.6mm, especially without the comparatively powerful flash in standalone cameras, but indoor and low-light shots should be adequate for social sharing, and shots with good lighting viewed at normal sizes will be about as good as what you get from standalone cameras.
Size wise, the sensor falls somewhere between the iPhone 5 (5.68mm) and iPhone 5s (6.00mm).
Many of the 100% crops from the Ulefone Be Touch camera are social-sharing usable, and the full images are good enough to be used for making small-medium prints. Remember these pictures are SOOC (straight out of the camera), with no editing other than resizing and cropping. There are a few HDR shots in there as well for comparison.
[flickr_set id="72157651623143783″]
The front camera produces decent results and remarkably even has a front-facing flash. The bezel around the camera is metal. The flash for the rear camera is quite bright and is well-timed in coordination with taking pictures. Notably, it also gives a pre-flash that can help with reducing red-eye.
---
Conclusion Summary

$209.99 w/coupon code BETOUCH

Order Be Touch

OTG, compass, GPS, Bluetooth all working well
Good camera
Dual-SIM + SD expansion support
3GB RAM+MT6752 make the phone very powerful and great for multitasking
Decent battery life
Slim and modern looking
Good touch finger scanner
Worldwide 3G 850/900/1900/2100

$209.99 w/coupon code BETOUCH

Order Be Touch@Gearbest

Rating
Ulefone Be Touch closing
The smartphone market is getting very competitive. There are many very powerful, quality devices available in the $120-200 range, so the Be Pro is in with deep competition.
Overall, I like the Ulefone Be Pro. The display could be better and the WiFi could be stronger, but these 'negatives' are by no means deal killers, and it's possible the issue with white not being pure could be a color temperature calibration issue. The camera is very good and the GPS and other components, excepting WiFi, are strong and working well.
If you're looking for a powerful 3GB RAM Lollipop phone with a very good camera and slim, modern style, the Ulefone Be Touch can be put on the short list. See the top five 3GB RAM phones. Post a thread in which phone should I buy forum
https://gizbeat.com/7703/ulefone-be-touch-review-3gb-mt6752/
https://gizbeat.com/wp-content/uploads/ulefone-be-touch-IMG_6280-450x340.jpg
https://gizbeat.com/wp-content/uploads/ulefone-be-touch-IMG_6280-150x150.jpg
China phone review
MT6752
MTK6752
Ulefone
A couple of months back I reviewed the surprisingly decent Ulefone Be Pro, a phone that has now dropped in price to under $130. The next phone up from Ulefone is the Be Touch. Ulefone Be Touch review style and build When I first received the product mockups of the Be...
Damian Parsons
https://plus.google.com/107879368390224447304
admin@gizbeat.com
Administrator
Hi, I'm Damian Parsons. I've been working with Android phones since the first Droid came out. I'm fascinated by computers and technology. My first BBS were ran on an old Apple IIc and Commodore 64. I work hard to bring the latest updates to you every day - without all the boring fluff. Please subscribe to keep up on the newest China tech. See our forum -> www.chinaphonearena.com
GizBeat
---
---