Ulefone Be Touch 2 review 3GB RAM MT6752
---
Slim and somewhat resembling the iPhone 6, Ulefone's Be Touch 1, with the help of some strong hype marketing, produced quite a bit of stir and put Ulefone on the map. They had also released the Ulefone Be Pro, which looked very much like the OnePlus One.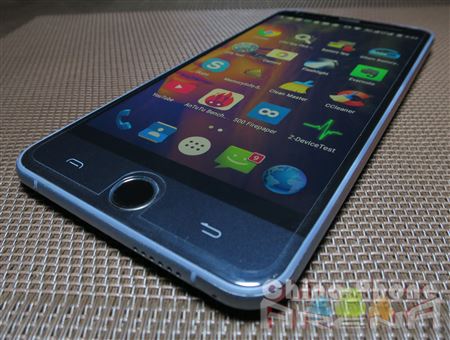 Within a couple weeks of the Ulefone Be Touch 1's release, the phone was was very difficult to find for sale and the Ulefone Be Touch 2 was announced.
Physically, the Be Touch 1 and Be Touch 2 are identical. The only difference between the two is their display, with the Be Touch 2@1080P and the Be Touch 1@720P.
Ulefone Be Touch review style (copied from Ulefone Be Touch 1 review)
When I first received the product mockups of the Be Touch I thought it was meant to be an iPhone 6 clone, but this isn't the case. While it certainly is similar to the iPhone 6 with some of its design elements, the two phones are noticeably different.
The Ulefone Be Touch is a slim phone, coming in at 8.5mm according to my measurement. The à la iPhone 6 sides look great. Whether metal or plastic, it's difficult to tell, but they are very tastefully done.
Interestingly, the front glass curves into the sides ('2.5D Arc'), giving the phone a clean, modern look. At the bottom of the front is the touch finger scanner which doubles as a home button.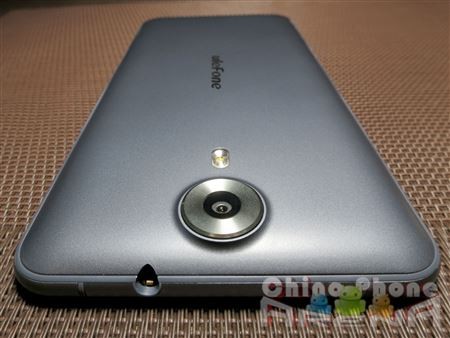 The back piece shuns fingerprints and smudges. After a day in 40c heat messing about the phone, the back piece barely shows any sign of being touched.
I will note here, for those who care, there is no capacitive button light, and no notification LED. For me this is a bonus, but some may miss them.
The build of the Ulefone Be Touch seems very solid. Though it's longer than most 5.5″ phones, it feels great in the hand. The back piece snaps on sure and there are zero creaks or loose spots.
Ulefone Be Touch 2 review performance
Mostly the Ulefone Be Touch 2 performs quite well. There is minor lag on image heavy web pages, but overall is quite smooth.
Fast scrolling and slow scrolling within settings, menus, lists, notification pull downs and background apps is butter, though the friction/momentum from fast flicks could use some tuning.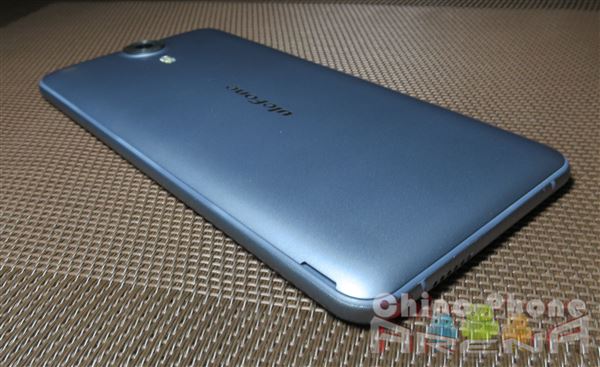 Web pages and books slow scroll fluidly and with zero jitter.
Background app memory management is excellent, with apps I'd opened the previous day still sitting there bam ready to go. This is really impressive stuff and it's one of the nice bonuses of having 2GB-4GB of RAM and a properly tuned kernel.
Ulefone Be Touch 2 Antutu
Antutu on the Be Touch 2 hit a very high 45k, with strong 9k 3D score. This makes the Be Touch 2 powerful enough to play modern 3D games smoothly.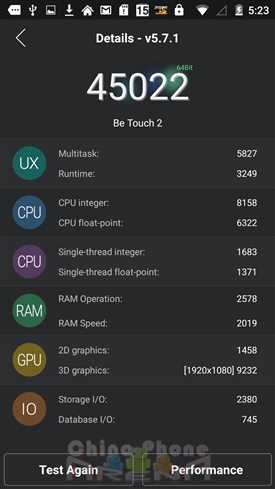 Ulefone Be Touch 2 display
One of the nicest things about the Be Touch 2 is its display. It looks great, with strong color and whites. The Ulefone Be Touch 1 was a bit of a slouch with it's display. While not looking bad, it had a very warm look and there was no way to tune it in settings. I'm happy to report that the Ulefone Be Touch 2 does not share this same defect.
The display is IPS and here the Be Touch 2 puts up a good show as well, with extreme angles showing only minor changes when looking across the display diagonally.
On a white screen, minimum brightness is 42 lux and maximum brightness hits a strong 403.
Ulefone Be Touch 2 review pictures
The Ulefone Be Touch 2, like it's predecessor has the Sony IMX214 camera. This is a true 13mp camera with a 1/1.3″ sensor.
Unfortunately, with my unit, the focus is not operating. You can see Ulefone Be Touch 1's photos here.
Ulefone Be Touch 2 review battery
The Ulefone Be Touch 2 claims a 3050mAh battery, but it's the exact same battery as the Ulefone Be Touch 1 uses which was specced at 2550. Neither the size, nor the weight of the battery has changed, yet somehow it gained 500mAh on the spec sheets. Make of this what you will.
Needless to say, with the same battery and double the resolution, the battery life of the Be Touch 2 will be a step down from the Be Touch 1's 5 hours 10 minutes. Most likely looking at about 4-4.5 hours. Enough to get light and moderate users through the day, but heavy users will not be satisfied here.
Ulefone Be Touch frequency support
Quite a few recent releases have been skimping on the quad-band GSM/WCDMA, but the Ulefone Be Touch 2 has retained this spec from the Be Touch One and has 850/900/1900/2100 WCDMA, along with FDD-LTE 800/1800/2100/2600MHz. As always, check with your carrier regarding your local area's covered frequencies prior to purchasing a mobile.
Ulefone Be Touch components
Phone calls were no problem with beyond adequate loudness from the earpiece and the mic transmission
The external speaker can be considered mediocre. Loudness being just adequate, but not what you'd expect from a $200 ballpark mobile, and with little depth to the sound.
WiFi can be considered sub-standard, beginning to lose speed at about 70ft / 21m.
GPS is above average and can be considered quite strong; cold locking within 5 seconds and maintaining an SNR in the mid-30's on 3-4 satellites at any given time.
OTG working without issue.
Compass working no problem.
Light sensor is sensing varying levels of light and adjusting display brightness appropriatly
---
Conclusion Summary

Be Touch 2@www.gearbest.com

Sub-par WiFi
Sub-par external speaker
Sub-par battery life
Possibly faked battery spec
Expensive for what it offers
Ulefone Facebook link and site links installed as /system apps

---

Very good looking display
Very strong GPS
Very good camera (but could not test due to broken focusing)
Stable OS
Powerful SoC (45k on Antutu 9k 3D)
SD expandable
Dual-SIM
Fingerprint scanner security
Big 3GB RAM
Background apps appropriatly staying in memory
Storage relegated to one partition
SD storage expandable
Smooth slow-scrolling
4G capable (UK, Asia, Europe)
Worldwide 3G
Dedicated physical function button
Slim & modern styling

Rating
By the tone of the review, regular readers of Gizbeat can likely tell what my recommendation is here.
The phone is really good looking; very slim and physically well put together. It's also got a very nice looking 2.5D FHD display, a stable OS, strong background app RAM functionality, quite strong GPS SNR, and a finger security scanner that works well.
But the external speaker is just barely adequate, the WiFi is below par, sub-par battery life, the battery spec is suspect, and it's too expensive. Six months ago this phone would have looked like a strong contender, but not in Q3 2015.
The sad part is these are all quite serious but easily addressed areas. Ulefone take note — put a better speaker and make sure the juice going to it is appropriate, make sure antenna placement is optimal and you use reputable antenna components, and don't fake battery specs. Actually, if these couple of things had been taken care of properly, despite the high price I would have recommended the phone, but alas, it's not to be.
If the Ulefone Be Touch 2 comes down to the $150 or less range, it can be considered, otherwise, cross Ulefone Be Touch 2 off your shortlist; competition is way too deep. I've added several phones which I strongly recommend in the summary links.
https://gizbeat.com/8743/ulefone-be-touch-2-review-3gb-ram-mt6753/
https://gizbeat.com/wp-content/uploads/betouch1-450x275.jpg
https://gizbeat.com/wp-content/uploads/betouch1-150x150.jpg
China phone review
MT6753
MTK6753
Ulefone
Slim and somewhat resembling the iPhone 6, Ulefone's Be Touch 1, with the help of some strong hype marketing, produced quite a bit of stir and put Ulefone on the map. They had also released the Ulefone Be Pro, which looked very much like the OnePlus One. Within a couple...
Damian Parsons
https://plus.google.com/107879368390224447304
admin@gizbeat.com
Administrator
Hi, I'm Damian Parsons. I've been working with Android phones since the first Droid came out. I'm fascinated by computers and technology. My first BBS were ran on an old Apple IIc and Commodore 64. I work hard to bring the latest updates to you every day - without all the boring fluff. Please subscribe to keep up on the newest China tech. See our forum -> www.chinaphonearena.com
GizBeat
---
---