Kingsoft Office – A GizBeat Top-Choice App
---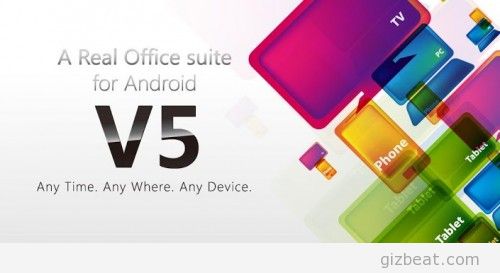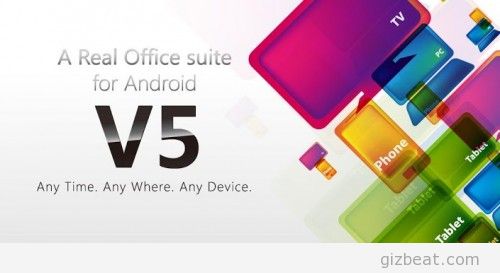 Kingsoft Office – Need something for editing Word and Excel documents, and viewing PDFs on your Android? Kingsoft Office supports 23 file formats, including DOC/DOCX/TXT/XLS/XLSX/PPT/PPTX/PDF. Leave it to China to take decades of work by Microsoft and put it out as a free app. Not only is it 100% free, it's a phenomenal app, and unlike some other apps which are more or less just online conversion tools, Kingsoft office works offline too for editing, reading and creating. – GizBeat
Author's Google Play Description:
All is FREE! Allow you View & Edit Office files Anywhere and Anytime.
Kingsoft Office is the only mobile Office with full-features FREE. Support for running on Android 2.1 and above system. User-friendly & nice UI interface! Users from over 200 countries and regions around the world are using it. The Average Rating of Kingsoft Office is up to 4.6 stars! Whether in a small cell phone screen or on a large screen on the Tablet, Kingsoft Office has a superior performance!
【THE BEST CHOICE FOR YOUR MOBILE OFFICE】
★ Rich editing features! All is FREE!
★ Small Size, Stable Operation, and Special interface!
★ Support 23 kinds of files, including DOC/DOCX/TXT/XLS/XLSX/PPT/PPTX/PDF
★ Built-in file manager that can automatically organize your office document
★ Tight integration with the mail application
★ Support cloud storages such as Google Drive, Dropbox, Box.net and other services with WebDAV protocol
★ A variety of gestures operations, which make your work more interesting
★ Support different Read Mode which be closer to the users' need
【INTERACT WITH US】
Like Us: http://www.facebook.com/pages/Kingsoft-Office-for-Android/404862896224274
Follow Us: http://twitter.com/#!/kingsoft_office
Support Community: http://bbs.kingsoftstore.com/forum.php?gid=49
Our Website: http://www.kingsoftstore.com
【FEEDBACKS FROM USERS】
★ "The best free office's app!"
★ "So Smart! Mobile Office Changed Now!"
★ "Outstanding. Tried them all and this is the best. That's it!"
★ "Nice Office App. Very useful, nice UI, like it better than the others I've tried."
And the G+ of our page is more than 20,000. It will be our pleasure that you click the G +1 on the right of the page if you like the app.
SPECIAL FEATURES:
【WRITER】
◇Support for opening documents sizing 100M above
◇Can view and edit documents in Page-Layout or Web-Layout
◇Bookmark and rapid positioning features
◇Save document as PDF
◇Spell Check
◇Print feature
◇Manual Paint, Comment and Revise
◇Rich formatting features including bold, italics, underline, font color, alignment, tables, alignment, header, footer, word count, find & replace, full-screen, etc.
◇Insert Picture feature, and support picture operations like deleting, rotating, moving, zoom, wrapping, etc.
◇Display a variety of graphic objects, equation, symbol, number and tables wrap effects
【SPREADSHEETS】
※Support for opening large documents sizing 200M above
※Custom input keyboard, which supports for inserting and editing formulas
※Include filter, sort, cell, fill, find & replace, wrap, format painter, freeze panes, autosum features, etc.
※Quick Calculation feature of backplane
※Support for speedy dialing of selected numbers and sending emails
※Insert, view and delete comments
※Display the radar charts, separation pie charts, composite pie charts, ring charts, etc. in the XLS files
※Support Print documents and the output of PS, PDF formats
【PRESENTATION】
◇Share Play
◇With thumbnails list like PC Office, for convenient slide switch
◇Compatible with the SmartArt display
◇Bullets and Numbers, Frame, Paragraph and Quick Style
◇Support for inserting and editing shapes, text box, pictures and notes
◇Display charts and tables
◇Slide Layout feature
◇Variety of play modes and laser pointer display
【PDF】
※Read memory
※Zoom
※Full-screen
【OTHER KEY FEATURES】
·Support external Bluetooth keyboard and USB keyboard input
·Support external keyboard shortcuts (Ctrl-C, Ctrl-V, Ctrl-S, etc. And we are adding more)
·Encrypted document
·Support the display of Arabic documents
·Display history files as photos wall
·Desktop Widget
Kingsoft Office (International) has been released, which supports 45 languages.
Download: https://play.google.com/store/apps/details?id=cn.wps.moffice_i18n&feature=more_from_developer#?t=W251bGwsMSwxLDEwMiwiY24ud3BzLm1vZmZpY2VfaTE4biJd
Enjoy!
Sincerely,
Kingsoft Office Team
Go To Kingsoft Office On Google Play
https://gizbeat.com/1451/kingsoft-office-a-gizbeat-top-choice-app/
https://gizbeat.com/wp-content/uploads/2012/12/kingsoft-office-android1-450x245.jpg
https://gizbeat.com/wp-content/uploads/2012/12/kingsoft-office-android1-150x150.jpg
Top Apps
Kingsoft Office – Need something for editing Word and Excel documents, and viewing PDFs on your Android? Kingsoft Office supports 23 file formats, including DOC/DOCX/TXT/XLS/XLSX/PPT/PPTX/PDF. Leave it to China to take decades of work by Microsoft and put it out as a free app. Not only is it 100%...
Damian Parsons
https://plus.google.com/107879368390224447304
admin@gizbeat.com
Administrator
Hi, I'm Damian Parsons. I've been working with Android phones since the first Droid came out. I'm fascinated by computers and technology. My first BBS were ran on an old Apple IIc and Commodore 64. I work hard to bring the latest updates to you every day - without all the boring fluff. Please subscribe to keep up on the newest China tech. See our forum -> www.chinaphonearena.com
GizBeat
---
---